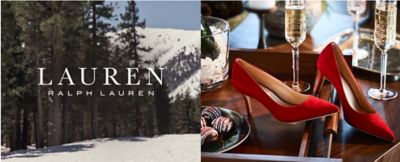 Lauren Ralph Lauren Women's Shoes
Step out in confidence with Lauren Ralph Lauren women's shoes from Belk. Whether you're dressing for the office or a weekend with friends, you'll find the perfect shoes for the occasion. Browse our collection of Lauren Ralph Lauren women's sneakers, sandals, pumps and espadrilles in a range of colors. Enjoy the same timeless, uncomplicated style and quality craftsmanship this all-American brand made famous around the world. These shoes will go with every outfit in your wardrobe.
Use Lauren Ralph Lauren women's shoes to dress any outfit up or down. Consider pairing a simple, floral jersey dress with navy blue Lauren Ralph Lauren women's sneakers for a busy day chasing after the kids. Add a @blazer and slip into a pair of taupe suede pumps and you're ready for the office. Or consider a versatile denim shift dress. With sneakers, it's perfect for running errands or going to an amusement park. Or slip into thong-style Lauren Ralph Lauren sandals for women and a great @swimsuit coverup for a walk on the pier. Switch to navy espadrille wedge sandals with a playful bow on the heel and put your hair up in a messy bun for a summer date night. A @jumpsuit becomes more sophisticated or more playful with your choice of Lauren Ralph Lauren shoes.
Shoes are your hardest-working and most essential fashion accessory. When you need stylish, comfortable shoes, reach for Lauren Ralph Lauren women's shoes from Belk.