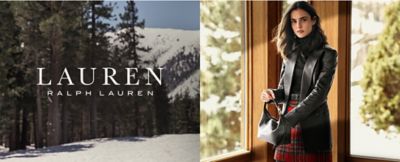 Lauren Ralph Lauren Women's Clothing
Your wardrobe may hold the key to looking good and feeling great. At Belk, you can find a versatile collection of Lauren Lauren Ralph Lauren fashion choices that can perfectly match your mood and style. Feel the excitement when you put on a pair of Lauren Ralph Lauren jeans or pants or slip on a dress that fits you just right.
Our collection of Lauren Ralph Lauren clothing includes what's hot, such as our print tops that are sure to be your new favorite go-to piece. Pair our soft cotton tops with flattering jeans, and you'll be ready to take on the day or night in style.
Shop till you drop. Our collection of Lauren Ralph Lauren women's clothing has something for every occasion. Treat yourself to stunning and sophisticated dresses, and turn heads when you're enjoying a night on the town. Stay warm and cozy in Ralph Lauren women jackets and coats to complete your outfit. Take your office attire to a whole new level when you are shopping our selection of blazers. And, when it's time to unwind, there's an entire line of sleep-ready Ralph Lauren's women's clothing ready for you to try on.
Our wide selection of Ralph Lauren women's clothing includes timeless pieces that are in line with the style sensibilities of the modern woman. Shop the Belk collection of Ralph Lauren women's dresses, shirts, skirts, shorts, pants, knits and more, and get ready to dress the part!