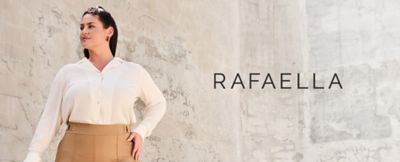 Rafaella
For easy-to-wear clothing for the office, family time or lounging on the weekend, shop Rafaella from Belk. With a range of styles for women, petites and plus size, Rafaella produces figure flattering clothing for all shapes and sizes. Shop our collection of Rafaella brand tops, blouses, tanks, pullovers, sweaters, pants, jeans, capris, dresses and blazers for versatile styles you'll dress up or down with ease. Perfect for the busy woman on the go, these easy-care pieces also travel well. Freshen up your wardrobe today with Rafaella apparel.
At home or on vacation, versatility is a busy woman's best friend. A tropical print Rafaella dress with flat sandals is perfect for a day on the go. With strappy heels, you're ready for an evening on the town. Switch to nude pumps and add a coordinating blazer and you have an office-ready outfit. The knit fabric always looks fresh while 2-way stretch ensures all-day comfort. Pair a lace inset tank with jeans or capris for a relaxed day with friends or add a cardigan or jacket for a business meeting. Discover Rafaella brand styles and colors for every season. A tribal print mini dress with flats is ideal for a summer day. Add coordinating leggings and ankle boots for a completely different look for fall.
Whether you're shopping for wardrobe essentials or a few stand out pieces, Rafaella has got you covered — in style.