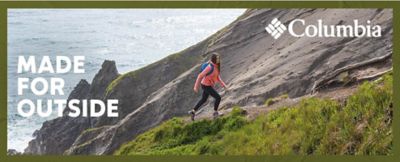 Columbia Women's Clothing
Wherever your quest for the great outdoors takes you, Columbia women's clothing has you covered. Stylish jackets, shirts, tees, shorts, pants, dresses and more are designed to keep you comfortable as you enjoy your active lifestyle. Explore our collection of Columbia women's apparel and discover breathable fabrics that resist rain and stains with moisture-wicking material to keep you dry. Omni-SHADE™ technology gives your clothing an extra layer of UPF 50 sun protection. Incorporated mesh linings keep you cool in the summer sun, with Freezer Coil™ technology providing additional cooling when activated by moisture. These technologies are delivered in lightweight clothes constructed to stretch and allow full range of motion. Columbia women's clothes keep you protected without holding you back. Our women's and Columbia plus sizes range from XS to 3X, so you're sure to find your perfect fit.
Layering Columbia women's clothes is a great way to prepare for changeable weather and temperatures. Start with high-rise leggings under your women's jeans or Columbia casual pants for added warmth when you head out fishing in the wee hours. Add a coral tank with UPF protection and mesh venting. Layer the floral printed Super Tidal™ Hoodie over the tank, complete with a ponytail slit in the hood. Add the coral women's PFG Bahama button-down shirt, stylish sunglasses and a Columbia women's hat for a look that's pulled together and adaptable to your changing needs throughout the day. And don't forget your sunscreen.
You'll enjoy your outdoor activities more fully with the protection of Columbia women's clothes from Belk. Stock up today.