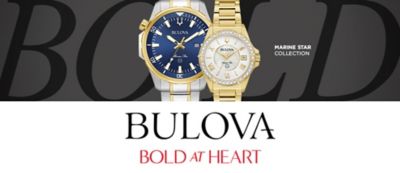 Bulova Watches
Have you been searching for the perfect men's accessory for any occasion? Are you looking for a great piece of jewelry with a masculine flair? The right Bulova watch can set off the best in any outfit, from brunch casual wear to evening formal wear. Give yourself a sophisticated look without trying too hard.
The Bulova Marine Star is a handsome chronograph that works well with outerwear from Nautica. The silver tone blue dial timepiece with rose-gold accents has an especially powerful look that's a perfect accent for a Ralph Lauren or Tallia suit. The artistic Bulova Precisionist is a line that takes its inspiration from Swiss artist H. R. Giger and comes in many colors, including gray, silver and rose-gold. Whether you're searching for something traditional or futuristic, you can get it with a Bulova watch.
Create your perfect look for every occasion, topped off with a Bulova watch to show off your style. Don't forget to get a matching women's Bulova timepiece for that special lady in your life.